On this Page:
Adding Stations/Authorities
(for Australia and New Zealand, these are known as Authorities)
You must first create a Station/Authority before you can organise what OneCall notifications are sent where (Subscriptions). Click on the New station/authority button to start this process:

or

A form will appear for the Station/Authority details, the ticket notification settings and the contacts to be entered: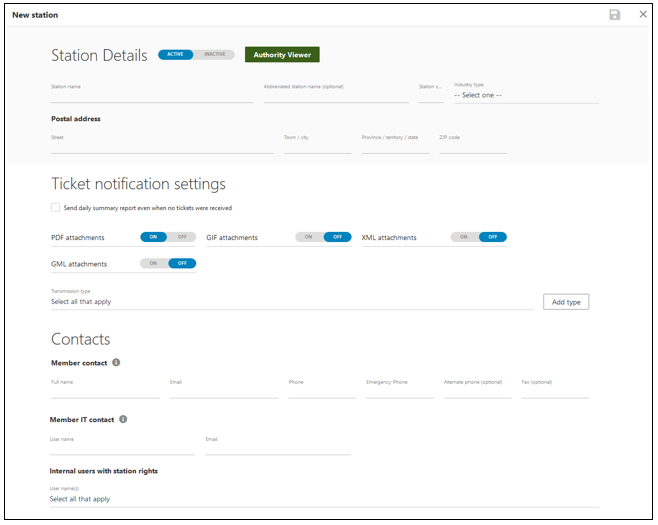 Note: The Member contact email is used for the OneCall ticket summary reports. Also, if a subscription is created before any stations/authorities have been made, the subscription will apply to all stations/authorities subsequently created and cannot be edited, only made Inactive.
Station/Authority Details
Fill in the Station/Authority Name (e.g. Company North), the abbreviated name (optional), the Station/Authority Code, Industry Type and the Postal Address:
For North America

For Australian and New Zealand

Ticket/Job Notification Settings
Then select the kind of notifications that the company would like to receive, as well as if they would like a daily summary report sent even if no tickets were lodged by contractors in OneCall. The PDF format will be set as "On" by default, but can be turned off. All other formats will need to be manually turned "On" if desired:
For North America

For Australia and New Zealand

Select the transmission type(s). This tells the system how you would like to receive notifications (specific rules of who receives the notifications will be setup later). Multiple transmission types can be selected here. Ticket Summary Reports (AKA Goodnight Reports) will be sent to all email transmission types added to this field. If this is the first time for the company, you will need to Add types first.
Click Add type and select what mode they would like notifications to be sent to them:
SMTP Mail (email) - it will ask you to enter the email address
Fax (Available in a future version)
FTP
Post (Available in a future version)
SMS (Available in a future version)
Phone – this transmission type is currently only used to display tickets in Operations>Emergencies. A warning alert will appear if this is selected.
You can add as many as needed, including adding multiple SMTP Mail types with various email addresses. After you have added the types, you will then need to click on the drop down to select them.
Contacts
Fill in the contacts details - these are the general contacts for the company:

Note: This does not create a user for them so they will NOT be able to login to Damage Prevention Portal.
If needed, you can select for certain users to have Station/Authority Rights. This allows the user to change certain station/authority details. Only users who have already been created will appear in this list to be selected. You can add as many users as needed.
If you need another user to be selected for this station/authority, you will need to create them as a user first by going back to Settings > System, click on the Internal Users tab and create a new user via the New User button.
Click on the Save icon in the top right-hand corner. The new station/authority will appear in the Stations/Authorities table. Repeat this process for as many stations/authorities as the company needs.
IMPORTANT: Every Station/Authority needs an AOI to be added to it for notifications to be successful. This is done by clicking on the Authority Viewer button within the Station/Authority Details page. The new Station/Authority must first be saved, then go back into the station/authority details to access this button. There is one AOI per Station. Please see the Authority Viewer articles for further information:
Viewing & Editing Stations/Authorities
To view Stations/Authorities, go to Settings > OneCallAccess, and search for the desired station/authority in the search bar at the top of the page:

The default view will be on Stations/Authorities, listing All stations/authorities. To view only Active or only Inactive stations/authorities, select the status drop down and choose the desired option. This will filter the table list to show only these stations/authorities. Alternatively, you can search by station/authority code, station/authority name, or member contact in the search bar next to this filter.
You can sort the table by clicking on the table headings.
To view the station/authority details, click anywhere in its row in the table and it will bring up the Station/Authority details. You can edit these if needed by clicking the Edit button in the top right-hand corner of the screen.
After you create a station/authority, it will automatically be set as Active. If you wish to change this in the future, open the station/authority details and click the Active/Inactive button in the top left corner of the screen to change the status of the station/authority:

If a station/authority is made "Inactive", it will not appear on contractor's confirmation sheets and notifications for this station/authority will not be delivered.
When you are finished editing, click the Save icon in the same spot.